FOR IMMEDIATE RELEASE
September 15, 2005
Nanotechnology facilities, enhanced by thousand-year-old decorative style, near completion
Joint Sandia, Los Alamos project built to attract researchers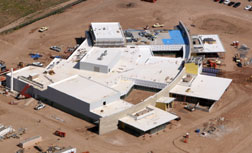 CINT Rising — The hub facility of Sandia/Los Alamos joint Center for Integrated Nanotechnologies rises north of Kirtland Air Force Base. The building's three wings house a characterization lab containing the most vibration sensitive instruments, a synthesis lab that includes chemical and biological labs, and an integration facility which includes a Class 1000 clean room and mobile clean rooms with higher ratings.
Download 300dpi JPEG image, "cint-aerial.jpg," 528K
(Media are welcome to download/publish this image with related news stories.)
ALBUQUERQUE, N.M. — A two-story-high, 450-foot-long wall surface with rock chipped flat — reminiscent of the thousand-year-old stonework at New Mexico's Chaco Canyon archaeological site — cuts across the three laboratory wings of the new core facility of the Center for Integrated Nanotechnologies.
The wall's function is not structural but meant to serve as an advertisement rooted in New Mexico's history.
"We wanted to juxtapose high-tech with what we understood of New Mexico's history: today's cutting edge with yesteryear's," says Bill Wells, senior architectural project manager of Arizona-based HDR, the building's design firm.
An imitation of the walls of Chaco Canyon built nearly a thousand years ago, the two-foot-thick curved wall (for reasons of cost, built internally of steel) gives the core building a distinctly different look from other unrelated research buildings in the technology park to the south.
The core facility is located just north of Kirtland Air Force Base, west of Eubank Blvd.
CINT is a joint venture of Sandia and Los Alamos national laboratories, with the 96,000-square-foot core facility expected to act as headwaters from which work will flow as appropriate to LANL's 35,000-square-foot gateway facility in Los Alamos, or to Sandia's gateway facility, housed in a preexisting building at Sandia in Albuquerque.
Construction is on schedule at both labs, with the core facility expected to be physically completed by late November and the LANL gateway by mid-January.
All equipment should be installed, and all DOE qualifications met, by March, says Jerry Hands, general technical manager of the project.
"We're trying to create a working environment that is attractive to the brightest scientists [from everywhere]," says Sandia project manager Bill Hendrick.
The project is funded by the DOE Office of Science.
The design, which radiates three labs from the curving stone façade like spokes from a wheel, includes sophisticated characterization capabilities in the northernmost wing; physical, chemical, and biological synthesis facilities in the middle wing; and clean rooms for nano/micro integration to the south.
The design, says CINT user program manager Neal Shinn, was arrived at through meetings among Los Alamos and Sandia engineers and scientists, who discarded the idea of a more common rectilinear building for the current structure.
Sandia and LANL researchers have worked together before and often, but CINT is the first jointly built project. Teams of engineers and scientists from both labs decide jointly on equipment that will populate each facility. Researchers from both labs will work at all CINT Facilities.
Other environmental thoughtfulness includes the creation of casual meeting spaces between the three major lab spaces for "scientists, who may not be the most extroverted, to mingle and chat," says Paul O'Donnell, project manager for general contractor Hensel Phelps.
CINT is one of five nanotechnology centers funded by DOE's Office of Science. More than 60 nanotechnology research projects are already ongoing at LANL and Sandia, funded by "jumpstart" funds from the Office of Science and scattered through the two giant labs.
---
Sandia is a multiprogram laboratory operated by Sandia Corporation, a Lockheed Martin company, for the U.S. Department of Energy's National Nuclear Security Administration. Sandia has major R&D responsibilities in national security, energy and environmental technologies, and economic competitiveness.
Sandia media contact: Neal Singer, nsinger@sandia.gov, (505) 845-7078