FOR IMMEDIATE RELEASE
April 12, 2006
Sandia to sponsor wind turbine blade workshop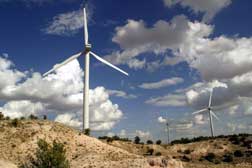 TURBINES SPIN at the New Mexico Wind Energy Center, located 170 miles southeast of Albuquerque and 20 miles northeast of Fort Sumner.
Download 300dpi JPEG image, "turbine-land.jpg," 644K
(Media are welcome to download/publish this image with related news stories.)
ALBUQUERQUE, N.M. — Some 100 wind turbine manufacturers, researchers, and suppliers will be on hand at a Wind Turbine Blade Workshop April 18-19 in Albuquerque sponsored by Sandia National Laboratories. The two-day workshop will be held at the Sheraton Uptown.
Workshop organizer and Sandia wind turbine researcher Tom Ashwill says the workshop will cover such topics as trends in blade design, materials and manufacturing, innovation leading to larger and lighter blades, and issues for offshore deployment.
"Wind energy is becoming increasingly popular in this country, particularly in the Southwest," Ashwill says. "This workshop will provide the most up-to-date information on just about anything anyone would want to know about turbine blades."
Presenters will include people from blade fabricators, turbine manufacturers, universities, and national labs.
The final event on the workshop's second day will be a visit to Sandia's Airworthiness Assurance Nondestructive Inspection Validation Center, where several sub-scale innovative blades are on display. Members of the news media are invited on the tour.
More information about the workshop can be obtained at www.sandia.gov/wind/bladeworkshop_06.htm or by calling Ashwill at (505) 845-8457.
---
Sandia is a multiprogram laboratory operated by Sandia Corporation, a Lockheed Martin company, for the U.S. Department of Energy's National Nuclear Security Administration. Sandia has major R&D responsibilities in national security, energy and environmental technologies, and economic competitiveness.
Sandia media contact: Chris Burroughs, coburro@sandia.gov, (505) 844-0948