FOR IMMEDIATE RELEASE
July 10, 2007
Home for developmentally disabled children becomes site for Sandia arsenic water removal experiment
Casa Angelica to benefit from Sandia research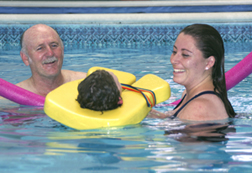 DON TRAMMELL AND YVONNE FLORES work with a Casa Angelica resident at the facility's therapeutic pool. The pool's water will be treated with a Sandia-modified arsenic removal system.
(Photo by Bill Doty)
Download 300dpi JPEG image, "casa.jpg," 6.18MB
(Media are welcome to download/publish this image with related news stories.)
ALBUQUERQUE, N.M. — Casa Angelica, a home for developmentally disabled children and young adults in Albuquerque's South Valley, is the site of an innovative Sandia National Laboratories water treatment system known as "in tank filtration" designed to remove arsenic from drinking water.
"The Sisters who own and operate Casa Angelica are always proactive — whether it's taking our young people into the community or, like now, trying a new method of arsenic water removal from our well water," says Casa Angelica Administrator Louise Turner. "We are excited about being able to help Sandia with this research."
Directed by the Canossian Daughters of Charity, Casa Angelica provides a family-centered program for 16 developmentally disabled young people. It is located on 15 grass-landscaped acres and has a facility featuring family rooms, a light/sound therapy room, and playground area. There is also a pool where the children and young adults, who all use wheelchairs, receive therapy four afternoons a week.
The Sandia project is an experiment to help small water systems, like that used by Casa Angelica, inexpensively lower arsenic levels to meet new Environmental Protection Agency standards. The revised regulations, which went into effect in January 2006, reduce the maximum arsenic allowed water contaminant level from 50 to 10 micrograms per liter.
Sandia is a National Nuclear Security Administration laboratory.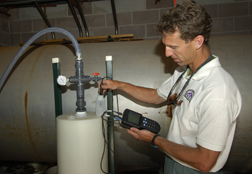 SANDIA RESEARCHER Brian Dwyer checks out arsenic removal equipment at Casa Angelica. The facility's well provides drinking and bathing water to 16 medically fragile children and young adults who live there.
(Photo by Photo by Bill Doty)
Download 300dpi JPEG image, "dwyer.jpg," 6.18MB
(Media are welcome to download/publish this image with related news stories.)
Casa Angelica's water comes from a well that has naturally occurring arsenic levels of 15 micrograms per liter. Lowering the arsenic concentration to meet the new 10 microgram per liter standard is readily achievable with commercially available arsenic adsorption media, says Sandia researcher Brian Dwyer.
He and his colleagues at Sandia chose the Casa Angelica water system from about 20 systems in New Mexico as the site of the Labs research because of its small size and relatively low levels of arsenic. The Casa Angelica well currently provides drinking and bathing water to 16 medically fragile children and young adults who live there, 50 staff, and the Canossian Daughters of Charity who own and operate the facility. The water is also used for grounds irrigation.
The "in tank filtration" technology uses a small pump to continuously circulate stored drinking water through a small vessel containing commercially available arsenic adsorption media. Conventional systems remove arsenic in a single filter pass and requires the filter vessel to be sized based on peak water demand.
In contrast, the Sandia technology recirculates water from the community storage tank continuously through a much smaller filter vessel and back into the storage tank, thereby removing most arsenic during off-peak water usage. This results in a gradual lowering of the entire storage tank is arsenic concentration, providing the ballast capacity to meet peak demand with a very small treatment unit, which translates into a significant cost savings.
The New Mexico Environmental Department (NMED) Drinking Water Bureau has identified roughly 100 small, predominately rural water systems that exceed the new arsenic standard. In the past the only water treatment these small water systems have conducted is chlorination (disinfection). Systems exceeding the new 10 micrograms per liter of arsenic must now, for the first time, install and operate a treatment system.
"I want to assure everyone that Casa Angelica's water is in no way dangerous," Dwyer says. "We just want to make sure it meets the new standards."
The Sandia treatment system, which was designed and built at the Labs and recently installed at the agency, will be used until later this year when Casa Angelica is expected to be connected to the City of Albuquerque water system. Then all water for drinking, bathing, and the therapeutic pool will be supplied by the city. Well water will continue to be used as the irrigation source for the grounds.
The Casa Angelica arsenic research is sponsored by the Arsenic Water Technology Partnership, a consortium of Sandia, the Awwa research Foundation (AwwaRF), and WERC, a consortium for Environmental Education and Technology Development. U.S. Sen. Pete Domenici, R.-N.M., secured the funding for the project through DOE when he was chairman of the Senate Energy and Water Development and Appropriations Subcommittee.
Other experimental arsenic removal sites in New Mexico that have been part of the program are in Soccoro, Anthony, Jemez, and Rio Rancho.
---
Sandia is a multiprogram laboratory operated by Sandia Corporation, a Lockheed Martin company, for the U.S. Department of Energy's National Nuclear Security Administration. With main facilities in Albuquerque, N.M., and Livermore, Calif., Sandia has major R&D responsibilities in national security, energy and environmental technologies, and economic competitiveness.
Sandia news media contact: Chris Burroughs, coburro@sandia.gov, 505-844-0948