FOR IMMEDIATE RELEASE
January 9, 2007
Sandia MiniSAR flies for first time on unmanned aerial system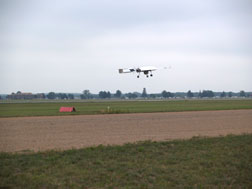 MiniSAR flies on Lockheed Martin's small SkySpirit UAS at the Minnesota National Guard test facility.
(Photo courtesy of Lockheed Martin Corporation)
Download 300dpi JPEG image, "lmskyspirit-flight.jpg," 340K
(Media are welcome to download/publish this image with related news stories.)
ALBUQUERQUE, N.M. — The Miniaturized Synthetic Aperture Radar (MiniSAR) developed by Sandia National Laboratories flew for the first time on a Lockheed Martin unmanned aerial system (UAS) recently, taking images in flight.
"This has been our goal all along — to have the MiniSAR fly on an UAS," says Sandia researcher Dale Dubbert. He, together with George Sloan and Armin Doerry, created the approach for a miniaturized synthetic aperture radar. Working with them were other engineers, from multiple departments, playing key roles in the development and innovation activities. Eventually the intent is to have the MiniSAR be used for reconnaissance missions.
MiniSAR flew on Lockheed Martin's small SkySpirit UAS at the Minnesota National Guard test facility. On Oct. 19, through the closely coordinated efforts of Sandia and Lockheed Martin, the SkySpirit soared to nearly 3,000 feet, becoming the first UAS to successfully transmit real-time, four-inch resolution SAR imagery from a Class III unmanned aerial vehicle. During four different mission demonstrations, the SkySpirit transmitted MiniSAR images, capturing actionable data in two operational modes, including focused area circle-mapping and broad area strip-mapping. Multiple imaging passes were post-processed to demonstrate coherent change detection used to identify changes over time.
Sandia is a National Nuclear Security Administration (NNSA) laboratory.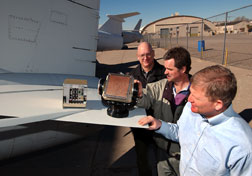 Sandia researchers, from front to back, George Sloan, Dale Dubbert, and Armin Doerry, check out an early version of MiniSAR.
(Photo by Randy Montoya)
Download 300dpi JPEG image, "mini-sar.jpg," 656K
(Media are welcome to download/publish this image with related news stories.)
This demonstration marked the first time an autonomous flight of a small tactical UAS has captured SAR data of this type and resolution. The use of a MiniSAR, which is being produced by Rockwell Collins, Inc., could greatly enhance a ground unit's surveillance capabilities with a UAS. It can capture high-resolution images through weather, at night, and in dust storms.
Dubbert, Sloan and Doerry started developing the 30-pound MiniSAR about three years ago, incorporating a number of key technologies, including mechanical design, digital miniaturization, RF miniaturization and navigation expertise. MiniSAR was made possible after the gimbal and electronic teams got the unit down to its diminutive size. It consists of two major subsystems: the antenna gimbal assembly (AGA) — the pointing system that consists of the antenna, gimbal, and transmitter — and the radar electronics assembly (REA) — the signal generator, receiver, and processors. The AGA beams the radio frequency and receives it back. The REA is the electronics package that generates the radar signals, controls the system, processes the data, and transforms it into an image.
"In the past small classes of UASs could carry payloads of 50 pounds, which limits them to video or infrared cameras," Dubbert says. "The smaller MiniSARs will let them carry additional sensors that together will provide a very detailed reconnaissance picture."
MiniSAR was initially tested on a Twin Otter aircraft owned by NNSA. The October test flight on the Lockheed Martin SkySpirit UAS demonstrates that the MiniSAR could be deployed by tactical unit commanders for real-time reconnaissance, regardless of smoke, dust, heavy rain, or nighttime conditions.
Rick Udicious, vice president and general manager of Lockheed Martin's Tactical Systems business, says his company understands the military's need to provide tactical support for the warfighter.
"The need for small unmanned systems that meet emerging mission requirements for agility, affordability, and the next generation of resolution accuracy is a key element in extending the tactical capabilities of U.S. forces," he says.
Flying MiniSAR on the Lockheed Martin small SkySpirit UAS will help meet that need.
---
Sandia is a multiprogram laboratory operated by Sandia Corporation, a Lockheed Martin company, for the U.S. Department of Energy's National Nuclear Security Administration. Sandia has major R&D responsibilities in national security, energy and environmental technologies, and economic competitiveness.
Sandia news media contact: Chris Burroughs, coburro@sandia.gov, (505) 844-0948