FOR IMMEDIATE RELEASE
May 2, 2007
Swarmy saves the day
Robot completes clean up at Sandia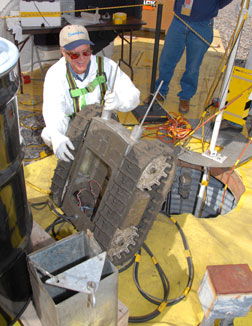 DOUG EVANS INSPECTS SWARMY after its tour of duty in the wastewater storage tank.
(Photo by Randy Montoya)
Download 300dpi JPEG image, "swarmy_handler.jpg," 886KB
(Media are welcome to download/publish this image with related news stories.)
ALBUQUERQUE, N.M. — Swarmy the robot recently completed its cleanup assignment — removing the last drum-full of thick sludge from the bottom of a deeply buried storage tank at Sandia National Laboratories.
In November 2005, a problem was discovered with an old wastewater tank at Sandia's Technical Area 5. The tank, which had been buried 26 feet under the courtyard at Sandia since the late 1950s, had less water in it than anticipated.
It had originally served as a drainage tank for the Sandia Engineering Reactor project located deep in a basement of a Sandia building. More recently, the tank's purpose caught gray water from benign sources like sinks and drains in the basement. Until the tank was removed from service, the water was routinely tested before it went into the city sewers, and had never shown any radioactive contamination.
But the tank bottom had a thin layer of old sludge on it that had tested positive for extremely small but detectable amounts of heavy metals. The tank also tested positive for non-radioactive chemicals such as arsenic and cadmium in extremely low amounts. No sludge contaminants were ever found in the water, but engineers wanted the sludge removed before the final closing of the tank. The state Environment Department inspected the site and found no releases into the water.
The 47-year-old tank's shape, depth, and position made cleanup efforts difficult. Its low-oxygen, confined-space environment precluded manned entry and inspection.
Video and additional photos available: Contact Stephanie Holinka, Stephanie Holinka, slholin@sandia.gov, (505) 284-9227.
Dan Borneo was the facilities project manager responsible for getting the tank cleaned up starting in April 2006. Borneo and his group looked at small robots attached to complex vacuums such as those being used at Hanford for similar projects. The estimated cost for those systems was about $300,000 at the time, plus another $300,000 to bring it to the location and set it up. Borneo decided to look for a cheaper alternative.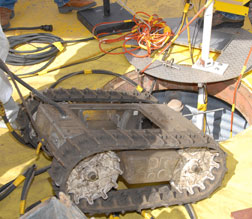 SWARMY EMERGES from wastewater storage tank.
(Photo by Randy Montoya)
Download 300dpi JPEG image, "swarmy_solo.jpg," 705KB
(Media are welcome to download/publish this image with related news stories.)
"The great thing about being at Sandia," Borneo says "is if you can dream up a solution to something, someone at Sandia has already built one and it's sitting on their shelf somewhere. The key is finding the right person with it on his shelf."
In October, he wrote to a few robotics engineers and asked if they had any extra robots. John Feddema, the manager for Intelligent Systems Controls, wrote back and said he had a few on the shelf.
"We had produced these swarm vehicles for a research project on cooperative robots and for several DARPA programs," said John.
Sandia is a National Nuclear Security Administration laboratory.
"It took a year to find the right process," says Paul Raglin, senior manager for nuclear facilities operations. "The amount of work that got done once we found the right one is amazing."
In only a few weeks, Swarmy removed about fourteen 50-gallon drums of sludge from the tank in preparation to meet New Mexico Environment Department closure requirements.
Doug Evans, John Montoya, and Jason Garner, all from J.B. Henderson Construction, guided Swarmy remotely as it first pulled a scoop through the sludge, and in the final efforts, vacuumed the sludge from the tank bottom with a modified Shop-Vac®. The end result looked like someone swept the tank clean.
The sludge-free tank will be removed from operation and monitored, awaiting eventual demolition when the building it served is also decommissioned.
Swarmy the robot, the engineers who modified him, and the operators who guided him, Raglin says, helped Sandia solve a problem that could have been expensive and dangerous to fix if human beings had to enter the tank and clean it by hand. Swarmy, he says, did it quickly and at a very low cost.
---
Sandia is a multiprogram laboratory operated by Sandia Corporation, a Lockheed Martin company, for the U.S. Department of Energy's National Nuclear Security Administration. Sandia has major R&D responsibilities in national security, energy and environmental technologies, and economic competitiveness.
Sandia news media contact: Stephanie Holinka, slholin@sandia.gov , (505) 284-9227