FOR IMMEDIATE RELEASE
July 21, 2008
Sandia to hold first Earth, Wind and Sun conference July 23 and 24
Conference designed to make people more aware of conservation and alternative energy sources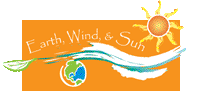 ALBUQUERQUE, N.M. —Living a greener life by conserving and using alternative energy sources will be the focus of the first-ever Earth, Wind and Sun conference July 23-24 sponsored by Sandia National Laboratories' Environmental Planning Department and Energy Management Team. The event is open to all Sandians; media are welcome.
Media planning on attending any part of the Earth, Wind and Sun event need to call Chris Burroughs at (505) 844-0948 by 4 p.m. Tuesday, July 22. Arrangements will be made to escort them to the activities.
"In light of increasing gas and electricity prices and global warming, this seemed like the right time to have this kind of conference," says Jack Mizner, who is involved in planning the two-day conference. "We will have workshops, tours of Sandia's environmentally friendly buildings, and speakers.
July 23 events
The first day will feature keynote speaker Ed Mazria, an internationally recognized architect, author, and educator who will talk on "Buildings and Climate Change: Energy Conservation, Solar and Daylighting Design." Speaking at 11 a.m. in the Steve Schiff Auditorium, Mazria most recently has reshaped the national and international dialogue on climate change to incorporate building design and the building sector. Mazria, who has been called a visionary on environmental issues, is the founder of Architecture 2030, an innovative and flexible research organization focused on protecting the global environment.
Also on July 23 from 10 a.m.-3 p.m. more than 30 exhibitors from Sandia, the city of Albuquerque, state of New Mexico, and private and nonprofit organizations will display products and services and share information in a tent outside the auditorium. The exhibits will present information related to energy, water, and other environmental topics.
Other July 23 events include:
1-2 p.m. — "Greening Your Life" workshop where people will learn how to become greener, more sustainable individuals with energy, water, and material-saving advice that is practical and easy to adopt.
1-4:30 p.m. — Green building and LEED (Leadership in Energy and Environmental Design (LEED®) building certification workshop.
2:45-4:15 p.m. — "Support the Environment and Save Money Too: Rebates and Tax Incentives" workshop where people can learn how to apply the various city, state, federal, and other incentives to their home and life. A panel of experts will provide an overview of rebates, tax credits, and resources available to homeowners and citizens.
July 24 events
On July 24 events shift to the Rio Grande Community Center at F Street and Texas Street on Kirtland Air Force Base. The day starts at 8:30 a.m. with a renewable energy plenary session featuring a panel consisting of Charlie Hanley, who will discuss solar energy; Daniel Laird,wind energy; Ron Pate, biomass; and Doug Blankenship, geothermal. They will give brief presentations and answer questions.
Other July 24 workshops include:
10:30 a.m.-noon — "Solar Basics for Albuquerque" workshop where people will learn innovative ways to reduce home energy use and save money on energy costs from simple insulation techniques to more involved photovoltaic installations.
10:30 a.m.-noon — "Remaking Sandia," a workshop aimed at gathering a group of Sandians from all organizational and management levels who wish to work toward remaking Sandia as a national leader in energy conservation.
1-2:30 p.m. — "The Ecology of National Security" workshop where discussions will center around how an ecosystem decline may be one of the greatest threats to national security. Attendees will learn the potential causes of decline, possible outcomes, and recommended solutions to this looming problem.
1-2:30 p.m. — "PV Installation" where people will learn the basics of photovoltaic installation taught by Marlene Brown, member of the New Mexico Solar Energy Association.
2:45-4:15 p.m. — "Eco Footprinting" workshop where attendees will gain a general understanding of the ecological and carbon footprint concepts through interactive participation and the opportunity to experiment with different footprint calculators.
Two tours — One of Sandia's green buildings from 10:30 a.m.-noon and Sandia's Solar Tower from 1-2 p.m.
More information is available at http://environment.sandia.gov/new/index.shtml.
---
Sandia is a multiprogram laboratory operated by Sandia Corporation, a Lockheed Martin company, for the U.S. Department of Energy's National Nuclear Security Administration. With main facilities in Albuquerque, N.M., and Livermore, Calif., Sandia has major R&D responsibilities in national security, energy and environmental technologies, and economic competitiveness.
Sandia news media contact: Chris Burroughs 505-844-0948, coburro@sandia.gov