FOR IMMEDIATE RELEASE
April 14, 2008
Sandia MESA project receives DOE secretary award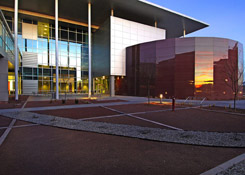 DOE Secretary of Energy Samuel Bodman has selected the MESA project team as recipients of the Secretary's Achievement Honor Award.
Download 300dpi 352KB JPEG image (Media are welcome to download/publish this image with related news stories.)
ALBUQUERQUE, N.M. — Secretary of Energy Samuel Bodman has selected the Sandia National Laboratories' MESA project team as recipients of the Secretary's Achievement Honor Award.
The Honor Awards represent the highest internal non-monetary recognition that DOE employees and contractors can receive for providing exceptional service to the Department and the American people.
This inaugural round of the awards program generated a number of nominees from across the DOE complex and MESA was from this group as one of the first recipients of the award. Sec. Bodman will present the honor awards April 8 in Washington, D.C.
The award states: "In recognition for demonstrating outstanding project management expertise and successfully completing the SNL MESA microelectronics facilities (MicroFab and MicroLab) and construction of the Weapons Integration Facility (WIF) ahead of schedule and under budget."
The MESA integrated project team was comprised of technical experts from NNSA/SSO and Sandia staff with responsibility for nine project functions: Project management, project controls, construction management, ES&H, financial controls, testing and inspections, document controls, procurement, and risk management.
The team completed the microelectronics facilities (MicroFab and MicroLab) in FY2007 and dedicated the Weapons Integration Facility in August 2007. The overall project is currently 98 percent complete, and was three years ahead of schedule, and $40 million under budget while maintaining the original scope.
Bill Jenkins, MESA project manager, said the MESA project kept green in mind during the entire project.
"With the goal of improving our environment and saving energy/resources over the facilities' lifetime, the MESA laboratories were designed with LEED sustainable design," he says.
The MESA MicroFabrication Facility was recently awarded LEED certification and represents the first microelectronics facility in the world certified by the US Green Building Council. MESA facilities were also designed with modern force protection and anti-terrorism features to protect engineers and scientists in the mission critical microelectronics and weapons integration facilities.
---
Sandia is a multiprogram laboratory operated by Sandia Corporation, a Lockheed Martin company, for the U.S. Department of Energy's National Nuclear Security Administration. With main facilities in Albuquerque, N.M., and Livermore, Calif., Sandia has major R&D responsibilities in national security, energy and environmental technologies, and economic competitiveness.
Sandia news media contact: Michael Padilla, (505) 284-5325, mjpadil@sandia.gov