FOR IMMEDIATE RELEASE
August 18, 2008
Hydrogen road tour to stop at Sandia Science & Technology Park Aug. 20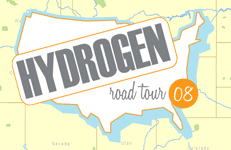 (Photo courtesy of
Hydrogen road tour '08
)
ALBUQUERQUE, N.M. — The Hydrogen Tour — consisting of 11 hydrogen-powered vehicles from major automakers, including BMW, GM, Honda, Toyota and others — will be at the Sandia Science & Technology Park Wednesday, Aug. 20 from 2-4 p.m.
Several of the hydrogen-fueled cars will be displayed in the parking lot of the Ktech building at Eubank Boulevard and Gibson Avenue SE, and some will be available for short test drives. The public is invited to come and check out these prototypes of future transportation.
The tour, organized by the California Fuel Cell Partnership, National Hydrogen Association, Department of Energy and the U.S. Department of Transportation, is spending 13 days traveling coast-to-coast from Portland, Maine, to Los Angeles, Calif.
Media planning on attending the event should be at the Ktech building parking lot no later that 1:45 p.m..
There are 33 planned stops along the tour, each about two hours, in 18 states and the District of Columbia. The stops provide the media, invited VIPs, and the general public with a hands-on experience and an opportunity to drive some of the cars.
The Hydrogen Tour is intended to demonstrate progress and commitment toward commercially viable, emission-free hydrogen vehicles. Tour organizers say passenger vehicles and transit buses powered by hydrogen will help promote America's energy independence, reduce greenhouse gas emissions, and improve air quality while preserving safety and American jobs.
Dignitaries expected to be on hand include Paul Brubaker, administrator of the Research and Innovative Technology Administration and Fernando Martinez, director of the Energy Conservation and Management Division.
Questions to Jim Clinch at (505)-844-1017 or jpclinc@sandia.gov
---
Sandia is a multiprogram laboratory operated by Sandia Corporation, a Lockheed Martin company, for the U.S. Department of Energy's National Nuclear Security Administration. With main facilities in Albuquerque, N.M., and Livermore, Calif., Sandia has major R&D responsibilities in national security, energy and environmental technologies, and economic competitiveness.
Sandia media relations contact: Chris Burroughs, (505)-844-0948, coburro@sandia.gov